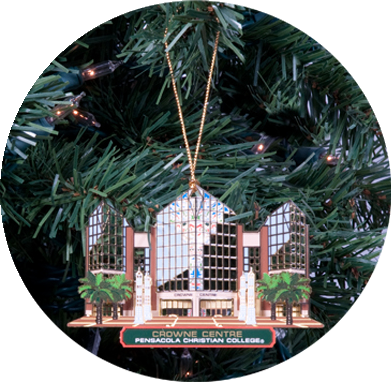 Want to really bring the Christmas season to your pagan fertility bush? What better way could there be of telling the message of a poor baby born in a humble manger who will bring peace on earth and goodwill to men than hanging a model of an ostentatious building from your favorite Fundy U?
For a mere sawbuck you too can show everyone the true spirit of the season by reminding everyone that being a Christian at PCC is much more about building the kingdom of Horton than the kingdom of heaven. And don't just buy one for yourself! I'm sure the missionaries on your Christmas list would love one of these tiny cathedrals as an object lesson for their people in good stewardship and how God blesses the khaki-clad white folk.
I'm going to put one on my tree right next to a tiny replica of a floor leader giving someone demerits for having sideburns that are 1/4 inch too long. Merry Christmas!