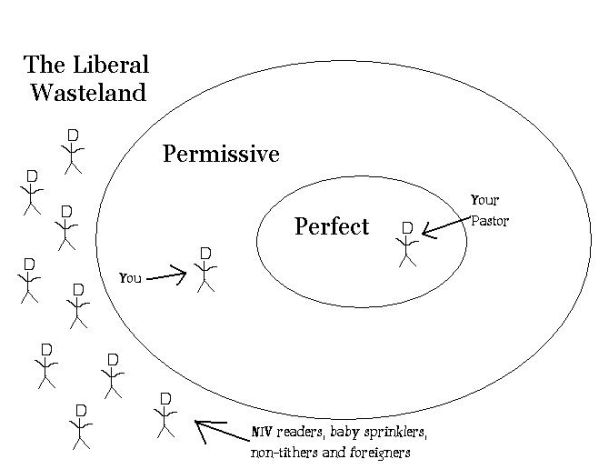 And concerning God's Will thou shalt strive with all diligence to figure out where it is hiding and stand in the perfect center of it. And thou shalt accomplish this task with all fear and trembling for one false step shall surely mean utter destruction of thee and all thine house and thy little dog too.
And when thou abidest in God's will thou shall in any wise take care that thou not scooch up over on the side nearby the edge or lollygag over on the left side of it nor take field trips over to the right. For if thou takest but one small step to the right or the left thou shalt land right smack dab in the permissive will of God and this is confusion of heart and will land thee in a heap of trouble.
And even if thou shalt be in the perfect center and not in the permissive nor yet standing outside it where the Presbyterians freely roam, thou shalt still spend many weary hours second guessing and agonizing over the one thou shalt marry, and the school thou shalt attend, and on which street thou shalt soulwin. For the Lord doth dearly love to play head games with thee and then chuckle at thy missteps.
And if it shall come to pass that thou know not at all the will of God, thou shalt seek it out from the Holy Spirit. And for thy convenience the Holy Spirit hath taken residence inside the leadership of thy local New Testament Independent Fundamental Bible Believing Baptist Church and thou mayest ask the leadership what the Spirit sayeth on any matter they shall be more than happy to tell thee.
Independent Baptist Book of Everlasting Rules and Requirements, p 15