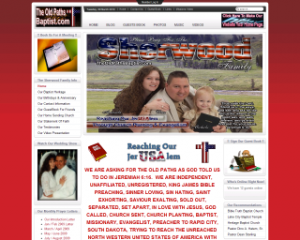 This weeks pick is oldpathsbaptist.com home of "INDEPENDENT, UNAFFILIATED, UNREGISTERED, KING JAMES BIBLE PREACHING, SINNER LOVING, SIN HATING, SAINT EXHORTING, SAVIOUR EXALTING, SOLD OUT, SEPARATED, SET APART, IN LOVE WITH JESUS, GOD CALLED, CHURCH SENT, CHURCH PLANTING, BAPTIST[S]"
I have to wonder who first came up with the "JerUSAlem" thing as a clever title for home missions. I really wish they hadn't.
Be sure to check out the missions video presentation, blog, and collection of music recordings.