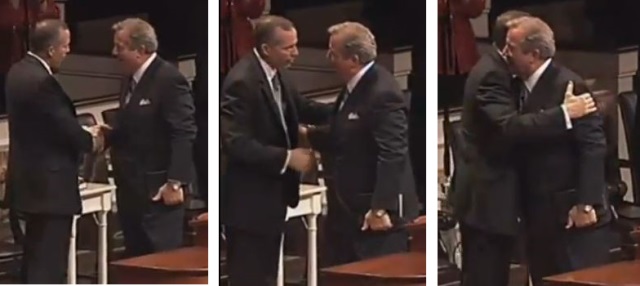 In 2011 Clarence Sexton went to Pastor's school at FBC Hammond and showered the church and now-disgraced pastor Jack Schaap with praise.
In 2013 Clarence Sexton is not only on the list of speakers who will be preaching at Bob Jones University's Bible conference, he's speaking twice and closing out the conference.
Now stop and consider that BJU would NEVER have someone from a "liberal" denomination or even a leader in the Southern Baptist Convention come to speak at their school because of their huge emphasis on "separation." Yet, apparently, somebody who merely loves and preaches for a school that is embroiled in abuse, scandal, and horrifying theology is ok since at least those people are still Independent Baptists.
As I have said many times before, the lunatic fringe of fundamentalism is never quite as far away from the "normal" fundamentalists as they would love for you to believe. In fact, if Clarence Sexton is any measure, they're not different at all.