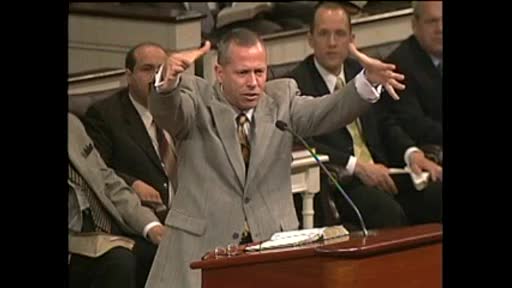 From all indications, Jack Schaap, the infamous pastor of the First Baptist Church of Hammond and chancellor of Hyles-Anderson college, is on his way out the door. For now he's on "indefinite medical leave" which in fundamentalism is generally accepted code for "about to be quietly fired for doing something horrible." Word to the wise: keep an eye on the Wednesday evening service at FBC this week. It might be worth your time.
Update 1 (7:30p.m.) The story has officially broken by CBS Chicago so I now feel free to share it here. Christ have mercy.
But at least Jack managed to get one last burst of crazy in before he headed for an undisclosed location to await this fate and here it is. From July 8th here are some relevant excerpts from his sermon "What Mom And Dad Don't Know Will Hurt Him." Only click that link for audio if you have a strong constitution.
01:20 Let me ask your daughter something. You date him? Have you
kissed him? Ya' sleeping with him? Multiple times?

04:04 And I'll look at the person and say, who ya sleeping with? Your
kid's problem(s) isn't, the, did you see how short her skirt is, no,
the problem is, she takes her skirt, and everything else off. Your
kids are coming to me and telling me they have sexual experiences in
the hundreds; hundreds; hundreds.

05:04 Is she good in bed? How many times have you slept with her? Are
you uncomfortable?

05:46 You know, the most common question I ask our teenagers: are you
safe in how you act? Mom and dad, you understand the language? That's
my most common question. In Baptist Church, in Hammond, Indiana, are
you practicing safe sex?

09:10 I want to say to my fellow brethren cremate me over this. Absolutely destroy me on the blog pages. Massacre. We've lost lost
scores of HAC students because pastors get furious when I talk about this. But who wrote the book on sexuality folks?

09:47 Nobody wants to be more intimate with you than God does. The language that Jesus Christ used when he talked to his Father about what he wanted for his people. Read John 17 mom and daddy and tell me how intimate he wanted your kids to be with him. Read John 15 and ask me if Jesus Christ just wanted to shake hands. [whispering] If you abide in me, and my words abide in you. I in you. You in Me. We in the Father, the Father in us. Don't try to reach some ambiguous theological nonsense in that. Jesus was saying, can I put it in language that everybody understands. He says "I want be the most intimate of intimates with you."

10:50 But if we don't get it figured out that we're connected with God. And when your teenager goes through adolescence and they start changing, and daddy, you don't want to touch her anymore, you know you don't want to hug her anymore; trust me, she's got a boyfriend lined up who'll be happy to touch her.

11:50 Mom, dad, listen to me. I don't need more business, but when your children reach that age, and they start going through that 13, 14, 15 year stage, send them to me, I'll talk to them. Please don't look at me like I'm stupid, why are you talking this way? Because I don't want to lose your kids, that's why. Because you don't want to find out about it do you mom and daddy. And I'll tell you three reasons why. Number one, because you're dirty yourself.

12:42 I was one of those little kids that went to a public school. You've heard me say it, I watched sex take place in the Junior High hallway, but I was a virgin when I got married.

13:09 You know what grieves my heart. I'm looking around and see some of you men sleeping and I want to walk up to you. I can tell you how many girls your son has slept with; I know. He lives at home with you right now. You're sleeping. You're sound asleep. I want to walk up to you and say wake up dad, your son is whoring around.

15:03 Do you know how many times your daughter sneaks out in the wee hours of the morning to have sex with her boyfriend? Well, not my
daughter. I'll take pictures for ya'.