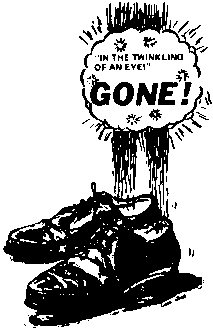 It's a unique experience to grow up as a fundamentalist child who is constantly under the threat of either being suddenly yanked out of the world in the twinkling of a eye or being left behind as an orphan for seven years of tribulation. This is stuff that will keep an eight-year-old up at night. If I'm in heaven, who's going to feed my dog? (In case you're wondering you can prepare ahead with a letter to an unsaved animal lover via raptureletters.com)
But to their credit, fundamentalist children are nothing if not creative when faced with the possibility of suddenly being disembodied. For example, there's a helpful clause in Scripture which says that "no man knows the day or the hour" of the Lord's return. If you've ever made it a bedtime ritual to proclaim "I know the Lord will return tomorrow" in hopes of using reverse psychology on the Almighty to stave off the End Times, you might have been a fundamentalist child.
But for those without a clever Rapture-prevention strategy, the fear of being left behind in the midst of Tribulation chaos is a real one for fundamentalists of all ages. The ubiquitous tale of pilots sucked out of the cockpits of their airliners to the doom of the passengers calls for giving some careful scrutiny to the flight crew when boarding an aircraft to see if there are visible clues to their salvation status. "Everybody relax, the pilot has a mustache." It looks like any unsaved passengers will get to live for another day.
If you've ever been awakened from a dead sleep by a car horn and your first thought was "I've been left behind!" — you probably have been a fundamentalist.