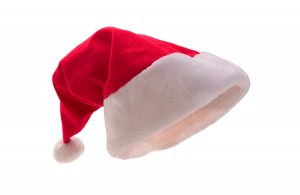 It's is widely accepted dogma in fundamentalism that Santa is an evil creature invented to subvert the hearts of men from the true meaning of Christmas: a time to celebrate Christ's birth by giving the pastor a new suit and his yearly bonus.
Such is the hatred for all things related to Mr. Claus that every bit of Christmas decorating, cards, postage stamps, and gift-giving must be scrutinized for traces of that scurrilous saint. These traces may include depictions of reindeer, the North Pole, cookies, milk, beards, chimneys, sleighs, and Will Ferrell. Even songs with references to children listening for sleigh bells in the snow may be accused of venerating the jolly old elf.
Wrapping paper must be scrutinized. Decorations must be carefully examined. Christmas cards received from relatives or friends bearing traces of Santa must be hidden away or disposed of all together. No whiff or trace of the man in the red suit shall be allowed to sully this most holy of seasons.
Now hurry up and write the pastor his check.