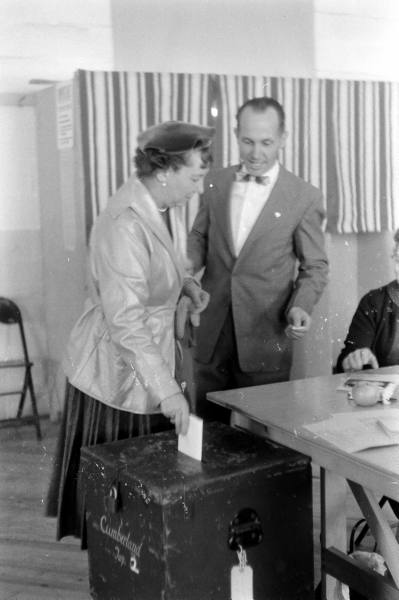 Today is election day in America. Whatever a fundamentalist's beliefs about separating from the rest of the world they do not extend to shunning contact with sinners in the line leading to the ballot box.
Voting itself has almost reached quasi-sacrament status in fundyland with pastors and leaders using the days leading up to any election to spread the word that it is the duty of the faithful before God and man to go pull the lever for whichever candidate is currently in fundy favor. To maintain their non-profit status, churches have historically not gone to endorsing candidates directly from the pulpit but they will have them come in to their service, award them a Bible and let them speak from the pulpit. That's all.
But as popular as voting is with fundys, they dearly wish that fewer Americans were permitted to do it — About 50% fewer if the truth were known. Women, you see, are fragile creatures who use emotion instead of logic in their decision making and really are in no shape to make choices about who should run the country. Women's suffrage is just one more step on the road to destruction and Susan B. Anthony was, quite frankly, the devil.
Of course, simple math shows that if non-fundy women vote then fundy women are forced to do the same to even the score at the ballot box. So fundies make this compromise: women are allowed to vote as long as they vote the way their husbands, fathers, and pastors tell them to — as long as that man is a conservative. For if a women votes against her husband she is exercising authority over him by canceling out his vote. This is only permissible if her husband is a godless liberal and she's taking a moral stand; otherwise, it's just rebellion.
Bless their dear sweet hearts.