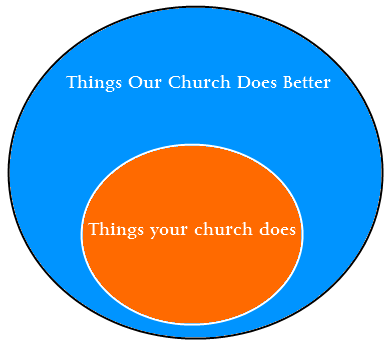 Anything you can do, a fundamentalist can do better. And faster. and holier.
Their Sunday Schools aren't just big. No, they're the biggest Sunday Schools In The History of Mankind (5000 years give or take).
Their soul winners aren't just active. They've won more people to Jesus than Peter and Paul combined.
Our church isn't just growing, it's growing faster than any other organization in the country and will soon need yet another building project just to contain it.
The times they're living in aren't just wicked. They're the most wicked times since Noah and bound to pass up his record any minute now.
Your pastor isn't just disciplined. He actually survives on only twenty minutes of sleep a night just so he can pray every night for every single fundamentalist missionary and all of their children by name. Twice.
One has to wonder how such amazing and accomplished people have so long managed to keep the majority of the world from even knowing that they exist.