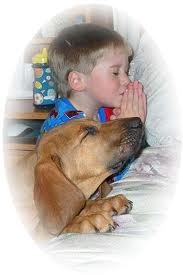 THE DOG STARTED THE FAMILY ALTAR
by Jack Hyles
A few years ago during the Christmas season I went to a home on a Friday afternoon. The husband was there alone. He was so pleased to see me and pleaded with me to come back in the evening as he and his wife were having domestic problems. That evening I did return and led them both to a saving knowledge of Jesus Christ.
It was a beautiful sight. We knelt at the sofa beside a beautiful Christmas tree, and each of them was sweetly converted. I knelt between them. Our heads were bowed, our eyes were closed, and we were praying, when suddenly I felt a cold, moist something on my cheek. It felt like a piece of liver, though I must confess I have never had a piece of liver on my cheek! I opened my eyes and found it was a Cocker Spaniel dog.
Being afraid he would interrupt the soul-winning experience and be used of Satan to keep the people from Christ, I grabbed the dog around the neck, stuck his nose in a pillow on the sofa, and held him firmly. (All of this time the couple was praying and being saved.) The dog squirmed for a while. I squeezed his neck harder. Then he became motionless. I thought to myself, "Brother, I guess I have won two souls and killed a dog!"
I was afraid I had choked him to death. What a joy it was when all of us got off our knees to know that not only had the couple been saved but the dog was still alive. I guess he had decided he enjoyed kneeling with us; in fact, after we got up, he remained in the kneeling position with his nose between his paws.
A year later during the Christmas season I related this story from the pulpit. The couple came to the platform after the service and told me this amusing yet wonderful story:
The night after they were saved, at the same time, the dog came to the same sofa and got in the same position as if he were praying. He continued to do this every night until the couple decided that they had better do the same thing; hence, they started a family altar.
The man then informed me that for one year they had been having devotions, and every night the dog had joined them.
Probably by now you are snickering or laughing, but I wonder if that dog had more Christianity than some of our readers.
taken from Jack Hyles' Favorite Soul Winning Tales