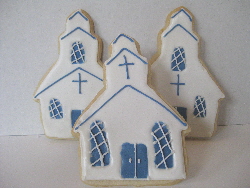 This quote sums up the state of fundamentalist rival camps so very well that I decided to post it here without further comment.
One of the many things that trouble the Independent Baptists is our camp mentality.Somehow or another, through the desire to be separated and consecrated, we've 'separated' and 'consecrated' ourselves into our own independent camps. For instance; there's the Shouting & Running The Aisles Camp, and the Non-Shouting & Running The Aisles Camp; then there's the Southern Gospel Music Camp and the Bluegrass Gospel Music camp, and in opposition to them we have the Conservative Music Camp; and let's not forget the camp that says it's OK to have a Mission Board, and the Camp which thinks Mission Boards are of the Devil; the Anti-Horn-Rimmed Glasses Camp; or how about the Camp that allows the use of bass guitars & drums in the church, and the opposing Camp who cuts off fellowship with all such; and then the Camp who teaches that every believer should remember the very day and hour of their conversion, and the Camp who teaches that it's not necessary; and of course the Get Rid Of Your TV Camp side by side with the TV is OK camp. Space constraints limit me from mentioning the Seminary Trained & the Anti-Seminary Campss, the Textus Receptus Camp, and the KJV1611-Only Camp; the Anti-Bus Ministry Camp; the Harold Sightler Camp, the Anti-Mustache Camp, the Ruckman Camp, the Hyles-Anderson Camp; the 1-2-3-Repeat-After-Me Soul-Winner Camp, the Anti-Divorced & Remarried Minister Camp, etcetera, etcetera.

The Errors of Independence, Mitch Allman
Well said.