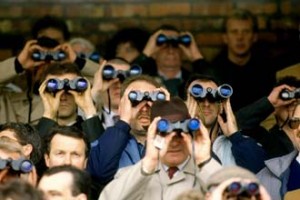 To a fundamentalist a person's "testimony" is a combination of their street cred, brownie points, and fashion sense with their Sunday School attendance record thrown in for good measure. For a fundy, it is the ultimate measure of how well a Christian is keeping up his outward appearance towards the world.
This is no mere desire for a good reputation, for 'losing your testimony' is tantamount to condemning people to eternal torment. Consider this story…
Hephzibah is a lovely fundamentalist girl who is as sweet and kind as the day is long. But while hanging out with some unsavory (read: non-fundamentalist) friends, she is encouraged to try taking a sip of an alcoholic beverage. Her bad friendships and unguarded heart lead her down the slippery slope of unrighteousness and she succumbs to this horrible sin. She drinks the tiniest mouthful of the potent brew and all hell breaks lose.
For in that very instant she loses her testimony in front of the lost. Now when she attempts to witness to them all they will see is the word "HYPOCRITE" hanging above her head in burning letters and they will point and laugh derisively and refuse to repent. Ten minutes later she and all of her friend die in a horrible bus crash and she's left to spend eternity knowing that her friends are all in hell because she took that single drink.
Testimony can be lost for so many different things. A radio preset, a wayward glance, a lock of hair that dangles down upon an ear. Beware, the beady eyes of the world are always upon you and they are keeping score. Be ye therefore perfect.
(All that is unless, of course, you are a fundamentalist preacher who is lucky enough to be granted unquestioning forgiveness no matter what his indiscretion all while condemning those of others.)