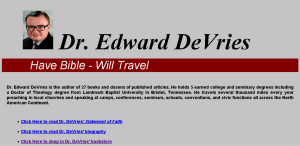 This week's pick could best be titled the online resume of a fundamentalist preacher.
Dr. Edward DeVries is the author of 27 books and dozens of published articles. He holds 5 earned college and seminary degrees including a Doctor of Theology degree from Landmark Baptist University in Bristol, Tennessee."
Worth checking out are the endorsements from everybody from Jack Hyles to Jerry Falwell. His writings include Symbol of Hate? or an Ensign of the Christian Faith? (a defense of the Confederate Flag as a "Christian Symbol that dates back to the old Roman-Celtic Wars") and FINDING A NEW PASTOR: A Guidebook for Pastor Search Committees
.
Fun for the whole family!