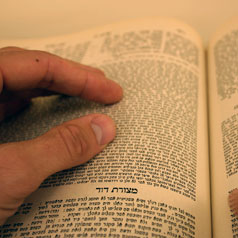 The Bible is ostensibly the fundamentalists authority for all matters of faith, practice, and flatware. As a result, the adjective "biblical" gets applied to anything and everything that the fundy does. There is biblical soul-winning, biblical courtship, biblical dress codes, biblical counseling, biblical dentistry, and so on.
The proverbial fly in the soup is, of course, that very few of these things are actually found explicitly or implicitly commanded to be done in fundy style anywhere in the actual Bible. Nobody would be more surprised than the prophets and apostles to learn that they had unwittingly given explicit instructions for how long a man's hair is allowed to grow or the types of instruments allowed to play in a church service.
One is left to suppose that requiring actual Bible passages and exegesis to support arbitrary standards is something that is decidedly not biblical. And then one's head explodes.