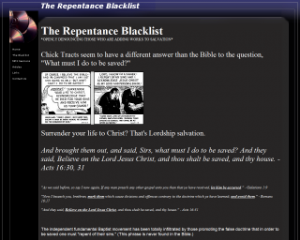 Have you ever feared that there may be people out there in the world you disagree with you but are not sure who they are? Well, fear no more. Steve Anderson has put together a list of all those who are teaching the 'heresy' of repentance for salvation on a site named (aptly enough) The Repentance Blacklist.
Leaving no heretic unnamed, Steve cuts a wide swath through fundamental and evangelical circles listing both the living and the dead. I never thought I would see John Piper and Lester Roloff side by side on any list but there they are — equally guilty of the perversion of taking verses like Acts 17:30 seriously.
Make sure to check out Steve's four sermons explaining his position on the subject.