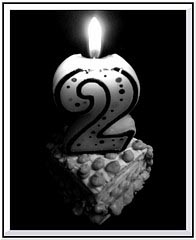 Two years ago I got bored and started a blog.  It wasn't the first time I had done  this — I've been writing somewhere on the Internet for the better part of a decade. But for some reason, people showed up to read this one and add their own thoughts and insights to my few ramblings and reminiscences.
Today, this site has had almost 600 posts, over 1 million visits, and (most importantly to me) 27,000 comments. You've all been very busy.
Looking forward, I honestly don't know how much longer I'll write on this particular topic — or at least write on it with this frequency — but I'm thankful for each one of you who takes a few moments from your day to read here and contribute to this community. I appreciate your encouragement and all the e-mails with stories and suggestions that show up in my inbox on a daily basis. I only wish I could do  them the justice they deserve.
Now back to the regularly scheduled insanity…