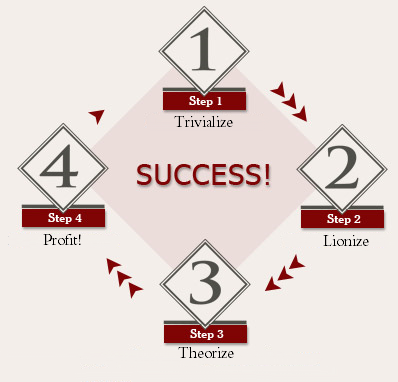 (I wrote this in the comments for the last post but I figured it really deserved its own post)
There is a proven four-step method to spinning any scandal that arises in fundamentalism. Observe these well and no scandal is too large, no outrage to unbearable, no offense is too great to be withstood.
1. Admit the problem in terms that make it seem trivial.  Concede that "everything wasn't perfect" or that "yes, we have a few problems." That problem may be anything from grand larceny to a double homicide but hey nobody's perfect, right? We all have our little mistakes. AND YOU'RE NOT PERFECT EITHER!
2. Defend the man involved.  He's a good man. He's God's man. He's a great man. He's our man. Quote his years in the ministry and the personal impact he's had on your life as you've spent your whole life knowing him. (If the man in question happens to be a woman you won't be defending her anyway so the point is moot.)
3. Claim that there is more hidden information yet to be learned that will cast this situation in a totally different light. "There are facts about this that have yet to be made know, and once they are that child porn found on our pastor's computer will have a perfectly reasonable explanation." Do this even if the rock solid evidence so far is completely damning. Even if this alleged information never surfaces assure everyone that you know someone who knows someone who knows there's more to the story.
4. Circle the wagons. Invoke a defense of the faith, God, Liberty, and the American way. Make defending your man an issue of defending against liberalism, Communism, and everything evil. Insinuate that everyone who doesn't defend him is 1)bitter  2)jealous or 3)a member of the Illuminati.
Note these steps well. These arguments happen the same way every single time.