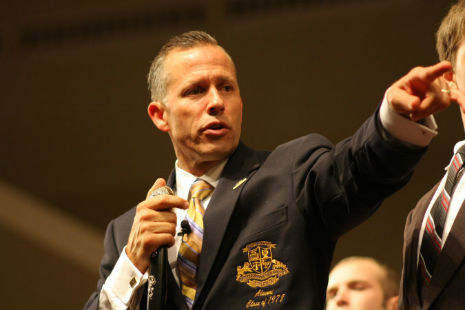 One wonders how the defenders, deniers, and other denizens of fundamentalism are going to try to spin this now that Schaap has flat out admitted that had sex with a minor.
The Chicago Sun-Timesl reports:
The recently fired pastor of a Hammond megachurch will plead guilty to taking a minor across state lines for sexual activity, federal prosecutors in Indiana said Tuesday.

Jack Schaap, former pastor of First Baptist Church in Hammond, was fired in August because he allegedly had a relationship with a 17-year-old girl. The church initially said its deacon board fired Schaap because he committed a "sin."

The church has said the 17-year-old girl and her family are members of First Baptist, which was one of the first megachurches in the country. The church has a congregation of more than 15,000.

Schaap, 54, of Dyer, is scheduled to have his initial appearance Wednesday afternoon before U.S. Judge Paul Cherry in federal court in Hammond.

Church officials said in August that they didn't believe any crime had occurred but that they had turned the case over to the Lake County Sheriff's Department. The sheriff's office and the FBI investigated the case.

Schaap graduated from Hyles-Anderson Bible College, which is associated with First Baptist, and married Cynthia Hyles, daughter of First Baptist founder Jack Hyles.

Church leaders have said Schaap has been spending time since leaving the church with his wife, as the two try to save their marriage.
I predict that the tune will now enter again the old refrain of "can't we just forgive, forget, and not talk about this anymore?" It's the same old song just louder and worse.
Let me take this opportunity to repeat myself from a previous piece I wrote about Bob Jones University which is equally applicable to their crazy cousins over at Hyles-Anderson.
The great stratagem is thus to continually change the terms of the debate until you prove that you are right on some solitary point. Once you have done this then claim that the point on which you are standing is the only one that matters and no other arguments can possibly count.

Has there been a moral failing? Point out that the people involved were legally correct.

Was what was done illegal? Appeal to some higher, biblical authority and decry the corruption of the legal system.

Was the action indefensibly immoral, illegal, and unbiblical? Then use your eternal trump card and claim that to focus on it would be a distraction from The Gospel and that nothing can possibly be more important than seeing souls saved.

And do all of the above while endlessly touting your own innocence and integrity and relentlessly denigrating the character and motives of your accusers. But whatever you do, don't say you were wrong. Don't apologize. Don't make restitution. Don't for a second doubt that you are right simply by being.

For no matter how many court rulings and media stories and witnesses and blogs and protestors rise up against you, you can be confident that you have never been wrong. This is your birthright. This is your heritage. This is the sacred trust passed down from father to son for generations: the gift of being always and forever right.