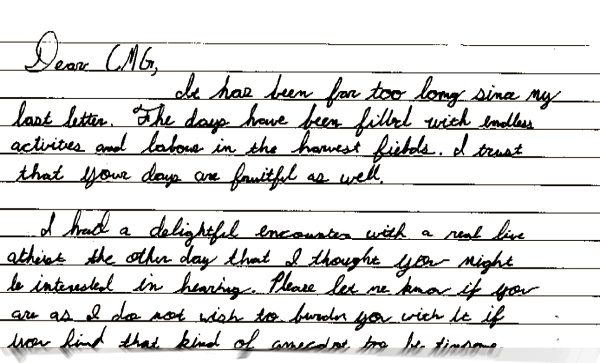 Darrell,
I just wanted to drop you a line and say that I have met a very nice
young man. His name is Titus. He is an older brother of a friend of
my brother, Uriah. We are the same age and he is in graduate school
at The Conservative College. He is getting a Master's Degree in
Pastoral Theology. His mother was sick when he was in high school and
when he graduated, it was God's will that he go to a local Junior
College for two years. He was able to be available to help his mother
and father out. His time there doesn't seem to have turned him into
an atheist, so I am thankful for that. I have heard that it can be
hard to resist the pressure from all the communist student
organizations at those state institutions.
He came to visit his brother who is doing some work with a local
evangelist while he saves money for school (Uriah also works for this
evangelist on his website store). While Titus was here, he and I (and
all my other brothers, of course) went to get ice cream, ride go-carts
(I am so glad I finally sewed that long black skirt and could wear
it!), visit the zoo, and attend church. We even got to share a
hymnal. He is an honorable man so he did not try to hold my hand
under the hymnal, like I've heard of some other boys trying to do.
He is back at school and has asked if he could write me. I told him
yes. He says it will probably be through the snail mail because he
wants his letters to be saved for posterity. I think that is so
romantic. He talked to my Father and asked if it was okay to write me
and that his intentions were to get to know me. Courtship via mail.
Father agreed that this was probably the best thing to do.
Titus is very cute. He is tall and has green eyes. He has never had
braces on his teeth, but you can't even tell! They are as straight as
anything!
In between the ice cream and go-carts, we got to talk a little about
finding the right one. We had a lot in common in that area. Neither
one of us has dated anyone and we think that it's akin to divorce to
date and then break up. I told him that my one goal in life is to be
a happy homemaker. He smiled and said that would be his goal for me,
as well. I think he means that he is very serious about getting to
know me and courting me!!!
Anyway, I just remembered that I had said in the little questionaire
that I wasn't courting anyone. Well, now I am.
Blessings to you in the name of our Lord (and Savior) Jesus Christ,
CampMeetingGirl