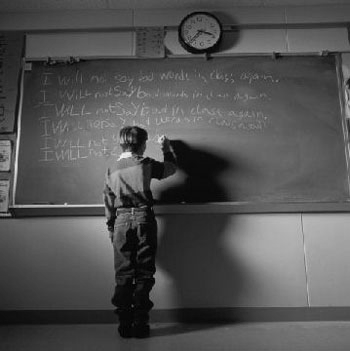 No matter how much they would like to, the deans at Fundy U can't get away with using corporal punishment on the students. In lieu of lashings, however, the administration has devised a litany of fiendishly clever punishments suitable to fit any crime real or imagined.
Demerits
Demerits can be thought of as the currency of sin at Fundy U. Want to skip your room job? Listen to non-approved music? Miss a class?  You'll pay for each offence out of your store of demerits. Take care, however, hit 150 and you'll be on a plane back home to mom and dad faster than you can say "arbitrary rule system."  Demerits are also an easy way for the admin to gauge your spiritual health. They'll even send a helpful letter to your parents letting them know how you did the semester before.
Socialing
Being "socialed" is a punishment reserved for those who have committed a crime of passion such as talking to a girl in the Library, shaking a boy's hand, or using the wrong elevator.  While enduring this punishment, you will not be able to speak to, write to, sit next to, or breath the same air as a member of the opposite sex. If you should be so unfortunate to be socialed, you'll soon learn who your real friends are — they're the ones who will leave their own significant others to come keep you company at dinner so you don't have to eat alone.
Campusing
There is an odd sort of cognitive dissonance to this particular punishment. Having spent thousands of dollars in advertising to convince students that their campus is the happiest place on earth, the administration then decides that the worst punishment they can imagine short of expulsion is to confine students to that selfsame little slice of heaven. In addition to not being able to leave, no campused student may talk to or room with any other campused student. This gives the powers-that-be the ability break up groups of friends that they believe are a bad element.
Shadowing
When a Fundy U student has sinned unto death and is having their fate decided by the deans office they spent their time as the shadow of a floor leader.  This means that they will follow everywhere and have no communication with anybody except for the deans office and their current guardian. Being shadowed at Fundy U is the kiss of death. In a very real sense the shadowed student is dead to his classmates.  They cannot speak to him, look at him, or even acknowledge his presence.  Even attempting to say "goodbye" can result in the expulsion of any student who commits this defiant act.
Call Slips
One of the most terrifying moments at Fundy U is the moment after opening your mailbox when you spot that green square of paper that requests your presence in the Dean's office. This almost never ends well because the deans are masters of…
Interrogations
If you've ever been repeatedly pulled out of bed after midnight and given hours of interrogation in the freezing cold by a power hungry Fundy U Residence Manager in an attempt to make you confess,  please  know that you are not alone. The tactics used in attempt to get students to make  a confession or turn in their friends would make any intelligence service proud. Fundy U deans will divide and conquer, attempt to use guilt and coercion, promise to cut deals, and (if all else fails) outright lie in order to extract the answers they want from a student. You don't get a judge and jury. You certainly don't get a last cigarette.
Somehow this regiment of shame and terror in enforcing the ever-changing and often unwritten body of rules never makes it into the glossy brochures or the sales pitches from traveling singing groups. At Fundy U you are always guilty until proven innocent and suspected of evil just by virtue being alive. caveat emptor.