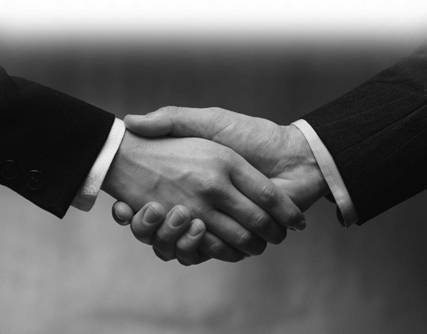 In many fundamentalist churches somewhere between "Good Morning Everybody!" and "Please Stand out of Respect For the Word of God" lies a phenomenon known as  the "Right-Hand of Christian Fellowship."
Although it's more common in the Bible Belt, it has been observed as far north as the frozen chosen of New England and out in the Midwest as well. The Bible Belt version involves more spit, slobber, and little old lady hugs. The Northern version involves more nodding and friendly grunting. But whatever the execution, the basic formula is the same…
The song leader intones "While the piano plays that last verse one more time, let's all shake hands with our neighbor and greet our guests!"
Pandemonium ensues as people begin turning around and greeting people around them with varying degrees of enthusiasm.
Jonah The Eager Preacher Boy runs from his spot in the front pew up to the platform to be the first one to shake the pastor's hand. The pastor sees it coming and braces for impact. Handshaking over, Jonah runs for the back to find the Youth Pastor and repeat.
Mr. Jackson The Hairy-Armed Mechanic who smells of equal parts motor oil and Old Spice tramps through the rows doling out painful squeezes and cheery hellos to all in his path. Knuckles can be heard cracking from afar.
Mrs. Â Sterlingson The Widow stuffs her slightly used handkerchief in her sleeve, Â sniffs with vigor and latches a moist hand on to any one who comes near. The wary and fleet of foot escape untouched. Others meet a less kind fate and glance about for the hand sanitizer.
The piano player finishes the verse and first time and knowingly keeps on playing without even looking at the music. Â She breathes a silent prayer of thanks for the chance to keep her hands germ free.
Somewhere in the third row a couple of teenage boys with sweaty palms take this one opportunity per week to briefly touch the hand of a real live girl. It's awkward, nerve wracking, and joy unspeakable. Â The stuff of chaste daydreams and scribbled prayer journals.
"Lets all return to our seats and sing that chorus one more time" bawls the song leader over the din. The pianist hits the intro chords fortissimo and people get in their last words, smiles, and moments of avuncular fondling before jogging back to their places.
The Passing Of the…er…The Right-Hand of Christian Fellowship is complete for another week.
Please pass the wet wipes.