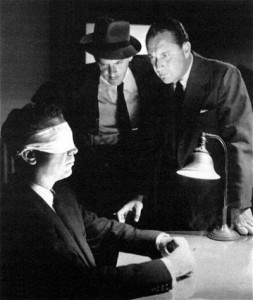 Imagine for a moment that you're a fundamentalist pastor who has recently decided to make a big change in his ministry. Perhaps you've decided to add a bus ministry and a baptistry for children that's shaped like a fire engine. Perhaps the move is even more drastic such as leaving your church to become a full-time evangelist or even something as far out as moving to the Midwest and starting your own end-times cult.
Whatever the case may be, you're sure to insist that the only reason you've decided to make this move is that God Himself has told you that it should be done. Given that kind of authority for his choices, one wouldn't think that a fundy pastor would care all that much whether or not the rank and file of people around him agreed with his decision or not. If God be for him, who can be against him? Why care what the unwashed masses think?
Yet, experience proves that not only must a fundamentalist pastor have God on his side but he will brook no disagreement from any mere mortal about his decisions as well. Even if he's got one foot out the door of his ministry, voicing any apparent concern about the Man o' Gawd's decision to suddenly leave may well end you up called on the carpet by the new pastor to repent of your rebellion toward the old one. You can also expect haranguing phone calls from other members, anonymous notes of condemnation sent to your job or home, and possible removal from whatever ministries you happen to work in.
At any crossroads of decision the pastor knows that with God on his side, he's in the majority — but he needs everyone else to agree with him anyway.