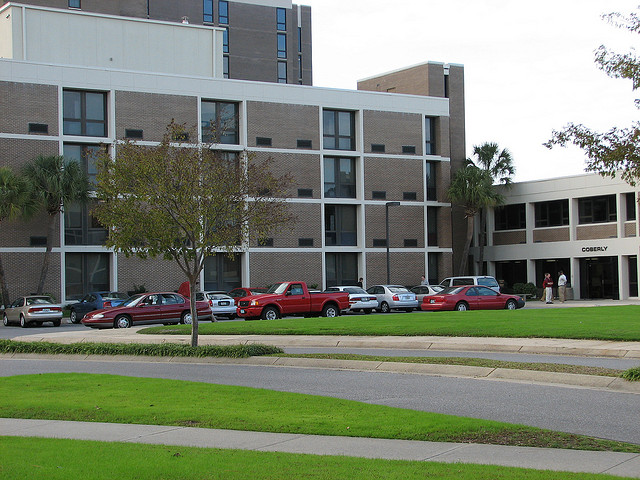 Perhaps one of the best ways to understand the rule enforcement system at Pensacola Christian College is to think back to the Stanford prison experiment of 1971 where students were arbitrarily assigned the roles of "guard" or "prisoner" and then left in a simulated prison scenario. The guards took to their role with relish enforcing rules and inflicting psychological torture on the prisoners, who for their part passively accepted this behavior as if they deserved it.
If you simply replace the word "guard" with "floor leader" and likewise exchange "prisoner" with "student" the results you find at PCC are not identical but some aspects are strikingly similar. Put into certain situations, even people who might otherwise be decent human beings can act with surprising disregard for the well being of others. Power corrupts — especially when an authority figure believes that their abuse of power is actually being done for the good of the abused.
My Senior year I was a "Prayer Leader" in my Coberly dorm room. Allegedly this meant that I was responsible for the spiritual well-being of the 11 other students that made up my prayer group, which met four evenings a week. In other circumstances looking out for somebody's well being might be checking on the freshmen to make sure they were adjusting well or trying to iron our personal conflicts. At PCC, however, soul care is something more akin to "rat out your roommates if they break the rules." Due to some of the things I have already written about this week, I was in no mood to be the eyes and ear of the administration in my room and mostly took a "see no evil" approach to whatever shenanigans might be going on in my hall as long as nobody was getting hurt. (I did report a guy for reading the Book of Mormon aloud but that's a really long story.)
Back in my freshman year my friend Dave had told me that the most important five minutes in your semester is the first time your floor leaders do room check at night. A power hungry, anal retentive floor leader can ruin an entire year at school. Unfortunately, for my last year I had two true believers named Adam and Andy as floor leaders. Both were ensemble members and both held the rule book to hold as much authority as if it had been handed down from Mt. Sinai. I should have known better than to cross them. I should have left it alone. But the last semester of my PCC career I made the nearly fatal mistake of questioning Adam's authority over a hot pot left on a bathroom sink.
"You can't have a hotpot in here." he proclaimed, knowing full well that although that rule was on the books that every guy in every dorm room made Ramen noodles in the bathroom on occasion.
"C'mon, Adam," I replied, "You know that rule isn't really enforced."
"I enforce ALL the rules." he said stiffly. "They're all in the book for a reason."
So of course I proceeded to invoke one of the oldest and most unenforced rules in the college by asking him why we weren't required to put a 3×5 card on our door each week proclaiming that we had changed our sheets. (Urban legend says that this rule was started back in the early days of the school and directed at one particularly unhygienic student and had almost never been enforced in the last decade). Adam left the room and returned in a few minutes to inform us that our hallway was now the ONLY one on campus that would be following that rule to the letter. The other people on my hallway were less than happy.
I thought the stand-off between myself and the floor leaders might end there. I was very wrong.
It was only a few weeks later that our floor leaders came into our room after lights out (11:00) and took each of my roommates out into the hallway one at a time to be questioned about "contraband" they might have such as video games rated T for Teen, cell phones, and music that didn't check such as my own Phantom of the Opera CD. Under the scrutiny my freshman roommates confessed that they did indeed have squirreled away some "illegal" items. The floor leaders confiscated them and then lectured me about my responsibilities as a PL. I had failed to report which meant I was guilty too.
The next night around midnight I was rousted out of bed again and this time told that I needed to go see our residence manager, Jordan. I complained that I needed to be up at 5:00 a.m. to go to work but I was told that this was too important to wait. So down we went to the freezing cold of the RM's office where I sat in a low chair like something out of a bad cop film and was again interrogated about my knowledge of my roommates misdeeds. I quoted Proverbs 26:17 in my defense and told them that what my roommates did was none of my business, that it was between themselves and God. Catch them if you can. Don't expect me to help.
The residence manager and floorleaders were not amused. They were even less amused when suggested that if they thought I was a bad Prayer Leader to simply remove my title and put me in a different room. That would have taken me off my current hall and out of Adam and Andy's reach so none of them liked that suggestion much either. After a few more minutes of lecturing me, Jordan finally told me to go back to my room.
I walked back through the hallway with adrenaline singing in my ears. I knew how encounters like this could escalate, even with no evidence of wrongdoing just on one person's say-so. Once you were marked as a "bad egg" it was only a matter of time before they found some way to expel you instead of letting you graduate. The next day I gathered up every conceivable thing that I owned that might be construed as breaking even an imaginary rule and move it to an off-campus location. It was the smart move. A week later I got another sleep-depriving middle-of-the-night call down to the RM's office and this time they were loaded for bear.
"We have a witness," said Jordan in his most melodramatic tones, "who tells us that you have contraband in your room."
I raised my eyebrows. "Who is this person?"
"We can't tell you that," he spluttered, "but they're somebody who is in a position to know."
I shrugged. "If you can't tell me who the person is then I can't possibly hope to explain what they might think I have. But I'll tell you what,if it helps you can go search my room. I'll show you everything I own."
Jordan's eyes narrowed. I could tell he didn't like it that I didn't seem rattled. The whole point of this exercise was to get me feeling guilty so I'd start confessing.
"The person who turned you in also said that you've moved your stuff out of the room," he said.
I had to smile. The entire scenario was so ludicrous. Me in my pajamas in the middle of the night being sweated out under the bright lights by a man who was only a year or two older than I was. And all of this over my potential ownership of something as inane as a Billy Joel CD or a video game. I could even have been expelled outright for owning a movie rated G.
Then suddenly I thought about the four years of my life I had given to the college. Two summers of 4 a.m. shifts in the warehouse, the heat of weeks of camp as a counselor, and months spent working lonely nights in the IT department away from my friends. And that was not even to mention hundreds of hours of classes, and thousands of dollars earned with my blood and sweat. All that might be lost because a few petty people had let power go to their heads. Suddenly I wasn't smiling anymore.
"I don't know what to tell you," I repeated over and over. "I'm afraid I can't help you."
Finally, reluctantly, they let me stumble back to bed in the wee hours of the morning. I lay awake in the darkness willing myself to go to sleep, knowing that I would be up for work in a few short hours but when I finally managed to calm down enough to drift off, the nightmares started. In my dreams I could hear them at the door. They were coming back to get me again. This time they were taking me to the deans office to be shadowed then expelled. Four wasted years. Public shame. My life would be over.
That dream was my constant companion through the restless nights in the months that followed. Fear was my constant companion both awake and asleep. For some reason they never came back. Perhaps they never intended to do anything beyond terrorizing me a little, some misguided attempt to "scare me straight." Maybe they just knew they couldn't trump up enough proof to really go through with their threats. I'll probably never know. What I do know is that through the whole incident I never received a demerit. I never was removed as PL or officially reprimanded in any way.
By the time graduation day dawned I felt numb inside. I had ironically been invited to speak a brief promotional message about my time at PCC during the convocation. I turned it down. I stood in line in my cap and gown fighting the subconscious thought that someone from the Dean's office might be coming through the door at any minute to pull me out of line. To tell me that they had made a mistake in letting me graduate.
I walked across the stage mechanically. Took my diploma. Sat in my seat. I should have been excited and joyful, I should have been ready to dance an sing about the accomplishment of graduating from college and starting the rest of my life. Instead I just felt tired and empty. It took a long, long time before I felt anything else.
It was only in the last few years that I began to wonder what had happened to my tormentors from those last terrible weeks of school. And so I went to look. I was chagrined to learn that Jordan the Residence Manager is now a youth pastor at a fundamentalist church in Texas. But the real shocker was when I learned that Adam the floor leader is now the admissions director at the very college we attended. Verily, he has his reward.
Mine is not the only story like this. I would not be surprised if this very week some other recent graduate sits at home knowing that they should be happy but only feeling the exhaustion of being a prisoner in the four year Standford experiment at Pensacola Christian College. If you are that student then I want you to know that you are not alone. Come sit and tell us your story too. We have been there. We understand.