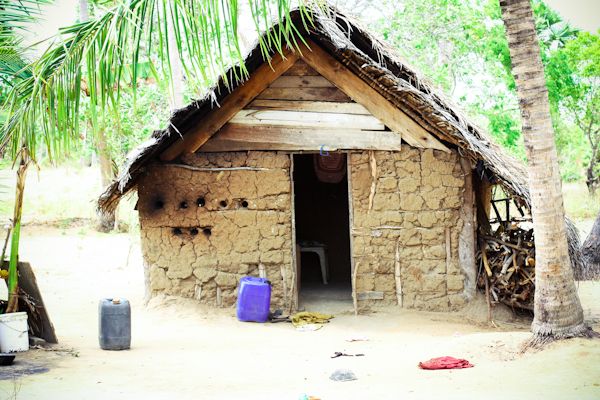 I worry. In fact I worry almost all the time. Of course I don't call it "worry" that because it sound weak and needy so I call it "concern" or "caution" or "just thinking ahead" but the truth is that over the last few years I've let a lot of worry consume my soul. I worry about my job and the uncertainty of my future with pay cuts and layoffs as an ever-present threat in my industry. I worry about my children and how to raise them into healthy and happy and educated adults. I worry about where we will live, how we'll pay our bills, and a thousand other unknowns that the future hold.
Today I traveled to the brand new work being founded in the village of Mundalkaduwa and I met another man who worries about most of the same things I do. Amila is only four years older than I am and like me he has a wife and two children. He works when he can find work but sometimes there isn't any to find. He and his wife plan and fret over how to come up with enough money for their children's education. He wonders what his future holds and whether his life will ever improve.
There is one major difference between Amila and myself. While I make about the median income for an American household, he worries about these things on an average wage of less than five dollars a day when he's lucky enough to find work at all. To put that in some perspective, that means that it takes him almost six weeks to make as much money as I make on a normal day. Or put another way, I look to him like what a person who makes over two millions US dollars a year looks like to me. The disparity is staggering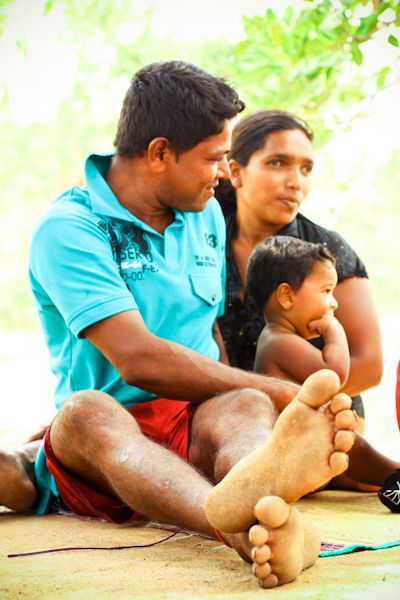 Someone asks him through our interpreter what kind of work he does. He says he climbs the palm trees to pick coconuts. A glance as his feet shows the callouses and shaping of long hours spent clinging to the tops of swaying trees as they tower above the ground. We tell him he must be very strong to do this work and he smiles but when we ask him what other work he does when there are no coconuts he raises his hands wide. "Anything" the interpreter tells us. "He'll do anything because he needs to feed his family."
In the world of this kind of subsistence living there are no easy answers or quick fixes because Amila's story can be repeated throughout this entire village and likely through surrounding villages as well. The issue is food security. Because the biggest worry of all whether or not you'll have enough food to eat or if your family will starve. When your main focus is just getting enough rice to make it through a day there is no money to get an education or start a business or improve your life in any visible way. Until the food and clean water issues are settled, there is nothing else that matters more.
So how does child sponsorship help an family like this one? Here's how it works:
When you give money to a sponsored child in the area we visited yesterday, those dollars are funneled into projects within the community that are selected by the community itself, and managed by community-based organizations. World Vision provides support, resources, and experience in advising these groups but they do the work themselves. This creates long-term sustainability in these projects since even after World Vision reaches the end of its project and leaves the area, the benefits continue to serve everyone.
So then the question becomes, if the money is going into community projects, then why are we talking about sponsoring individual children. The answer is quite simply that World Vision has found that connecting donors with individual children helps them see the benefits that their dollars are reaping. If you sponsored one of Amila's children, for example, you'd receive regular updates on their schooling, their health, and what's going on in their lives. This helps you realize the personal benefits of a broader program in a way that just wouldn't be possible if you simply wrote a check to World Vision every month.
In the brand new Mundalama Area Development Program there is much work to be done so that parents and older siblings don't go hungry at night so that the smallest children can eat. So that clean water is a universal expectation and not a luxury paid for with hard earned money. So that every child can go to school and dream that same kinds of great big beautiful dreams that we wish for our own children to dream.
So once again I'll make my plea. Don't be afraid to let you heart be open to the opportunities to help children through the child sponsorship program. At this writing I'm sitting here with tears in my own eyes as I think of the needs I have seen over the last few days and the potential to turn such profound sorrow into unimaginable rejoicing. Don't fear to weep with me. Don't shrink back from writing yourself into the story of a child's life. There is such joy just ahead and I want you and I and the people of Sri Lanka to share in it together.