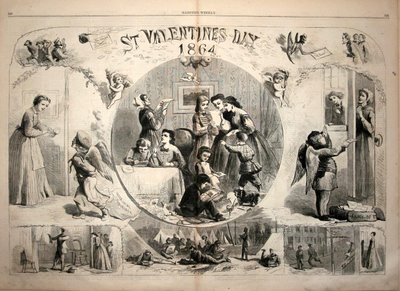 It is again that day of the year when the thoughts of fundamentalists everywhere turn again to one thing: pagan fertility rituals and blood sacrifices. Because nothing in this world says "I love you, honey" like a good screed.
But not every fundamentalist hates this holiday. Just like other pagan observances such as Christmas, Easter, and Thursday, some fundamentalists do inevitably succumb to the cultural pressure and participate in their own strange little way. When ensues is a strange conflation of the secular, sacred, and downright scary as churches attempt to both encourage expressions of romantic love and stop it dead in its tracks.
Nowhere does this appear more than at Fundy U where guys and girls obsess for long hours over getting a date to the gala event of the season. But having put in all the time and effort to secure a spot with their special someone the student then realizes that they're not actually sure what to do with them. Sitting stiffly next to your date through a Gilbert and Sullivan musical and then cordially nodding goodnight at the end of the evening just lacks a certain je ne sais quoi1.
Never mind candy and flowers and jewelry and romance, a trip to a church banquet hall to hear preaching about hellfire is what really says "I love you." You can be my Valentine as long as you do it from from way over there.
1Translation: "hubba-hubba"