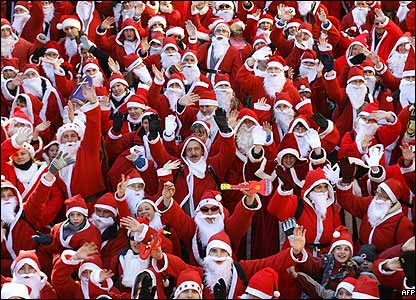 'Tis the season to be jolly! And I hate it. Just look at all those sinners thoughtlessly making merry with their booze and music and not even realizing that God's wrath hangs over their head. How dare they celebrate as if they had some right to enjoy this holiday when they haven't ever darkened the door of a bible-believing church. Those of us who have worked tirelessly to spread the gospel are the only ones who truly deserve such festivities.
Now certainly some will have an appropriate amount of melancholy as befits their lost condition but even those will be too blind to know that the answer to their "depression" lies in a trip to an old fashioned altar not the liquor store or pharmacy. But most of the heathens, and perverts, and Calvinists will be out dressed in their finery, eating, drinking and being merry. It makes me sick to think about.
I can only hope that some of them get taught a lesson before the season ends. Perhaps a few well-placed car crashes or house fires will set the proper tone as besuits these heathen's lost condition. One can only hope that God in his infinite mercy will send such calamities to soften their hearts. What a wonderful Christmas present that would be.
But they do look merry, don't they? They must be so deceived. Smiles and laughter fill the air. Satan is certainly at work here. They can't really be happy. Only obedience brings happiness. Only the obedient like me should be so happy.
I wish I were.