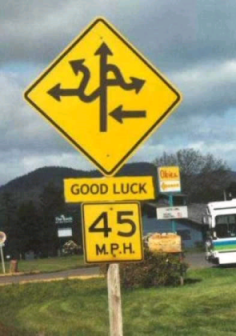 Although there are exceptions, the majority fundamentalist preachers do not speak in a linear fashion. Some may very well have a three point alliterated outline and give the impression that they have some specific big idea to communicate but in reality, the average fundy sermon runs a very tortuous route indeed taking frequent jaunts into amen lines and pit stops on the pastor's pet peeves. It's a wild ride.
This style of speaking is not merely the ramblings of the untrained mind, it serves a specific purpose. For it is much easier to disguise that that your points are neither well developed or particularly well supported if you separate them by minutes of filler material and lots of one-liners designed to elicit positive responses from the audience. Best of all, the preacher can simply claim that all the extras were just laid on his heart by the Spirit in the process of preaching and who can really argue with that?
Consider the following outline which I've just made up on the spot. (It's really kind of scary how easy this is to do.)
I. Sampson's Call (A Nazirite From His Mother's Womb)
– spend 15 minutes telling how the pastor was called to the ministry
and resisted until that one night in Tampa back in '63
– throw in a few digs at some other church in town
II. Sampson's Gall (The riddles and burning of the fields with foxes)
– Somehow connect this to rock music. Yell a lot.
– Pause to congratulate some visiting fundy on his long ministry and unswerving stand on the KJV
III. Sampson's Fall (Loss of His Hair and slavery)
– spend 20 minutes talking about how courtship is more biblical than dating.
– tell a heart wrenching story about a puppy.
By the end of all that, the hearers will have been sent down so many different paths of thought that there will be no way of trying to connect back the bulk what they've just heard to any actual point, structure, or support material. All they will know is that there were verses used so whatever the speaker just said must certainly be biblical.