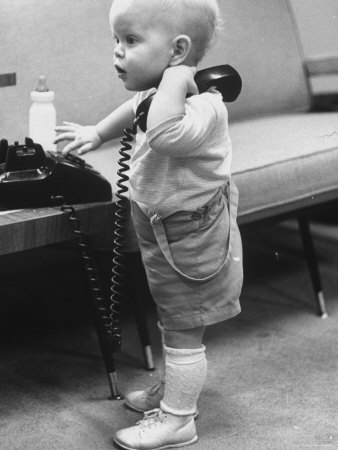 The most important day in a preacher boy's life is the moment he receives THE CALLâ"¢. If the fledgling preacher has grown up in a fundamentalist church, this event can happen anytime from pre-school onward — although most will find it expedient to experience it sometime in junior high. If you're not coordinated enough to make your fundy high-school basketball team (motto: "It's a good thing we're playing for heavenly rewards not earthly trophies") , being a preacher boy is about your only hope of gaining any kind of status.
The date and surrounding circumstances of THE CALLâ"¢ must be carefully documented. One just can't be too careful about remembering each detail for the sake of later sermon illustrations, pulpit committees, and parole boards. The elements of a good call story are these:
– It must happen during a sermon by either 1) a famous fundy preacher 2) A pastor who has been at the same church for over 20 years 3) Dad. If a preacher boy happens to get THE CALLâ"¢ while fishing or relaxing under a fig tree it's best if he keeps that to himself until the next available altar call following a sermon by one of the above.
– It must include a heart-warming story about how terrible the preacher boy's first experience with preaching was due to his ignorance and poor judgment on the part of whoever mistakenly let him into the pulpit. This should inspire the listeners to be amazed at how far the preacher boy has come since then by comparison. The worse he is now, the more tragic the story from the past must be.
– It must conclude with words that express how thankful the preacher boy is that he is not like other men, extortioners, unjust, adulterers, or even like this tax collector. It would probably be best to omit references to how slim his chances at gainful employment were if he had not received THE CALLâ"¢.
Many are called but few are chosen. The rest are sure to eventually find jobs in sales.