With Christmas coming up what do you get the fundamentalist who has everything? Get them the prestige of a title they know they deserve with an honorary doctorate from SFL!
SFL is happy to announce the opening of Old Paths Baptist University where the curriculum consists of this blog and a doctorate can be had merely for the asking. (Yes, I know Big Gary is offering them too but I didn't steal the idea from him, honest. This one has been in the works for a while. Besides, can you really ever have too many honorary doctorates?)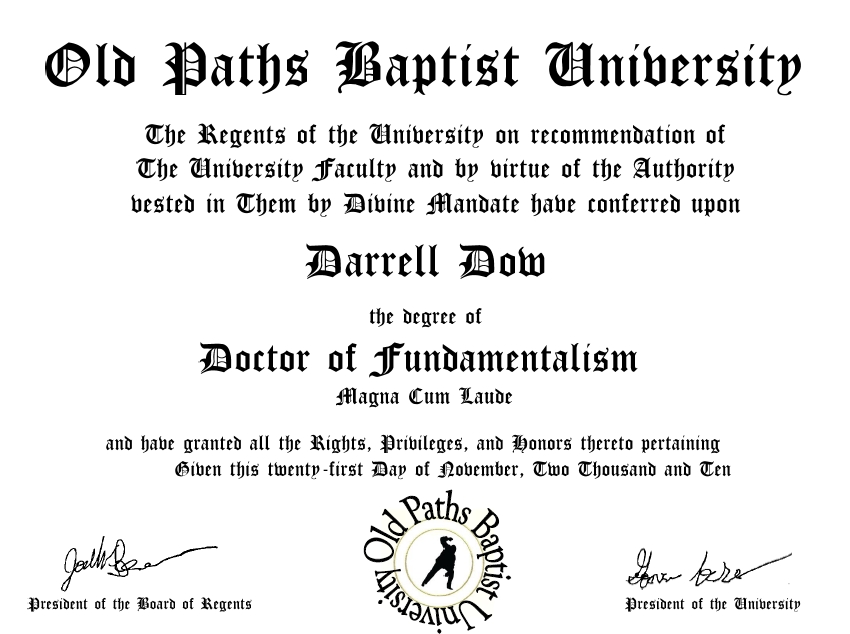 Recipients of this degree will have just as much right to call themselves "Doctor" as 89.3% of fundamentalists who bear that title.
Simply download the PowerPoint file, edit the name and field of study and print as many as you want. Congratulations on your new title!
(If that sounds like too much bother, I can also offer to print and mail a degree on your behalf to the person of your choice for the cost of materials and postage. E-mail me for details.)