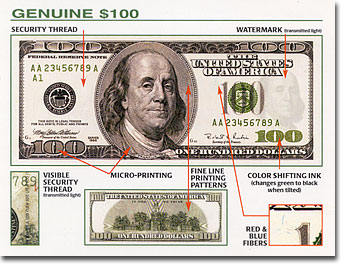 It's time now for another widely used illustration from the halls of fundamentalism…
When an aspiring agent of the U.S. Treasury is going to learn how to detect counterfeit money, how do you imagine that they are taught to tell the fake stuff from the real stuff? Do they look at counterfeit bills? Do they learn about color-shifting  inks, watermarks, ultraviolet glows, and fiber quality? Certainly not! Their training consists of one thing and one thing only: endless hours of touching, ogling, and sniffing real money. For if a person knows what the genuine article looks like then they'll never accept a counterfeit.
With this story the fundamentalist proves once and for all that it's not necessary to ever study another point of view other than the one held by other like-minded fundamentalists. Indeed studying other religions, sects, or factions could be extremely dangerous and cause evil questioning. Only the very strongest fundies may risk exposing themselves to such ideas and then only for purposes of maligning, mockery, and misquotation.
If your beliefs cannot hold their own in the vast arena of ideas, are they really worth having? Thankfully for fundamentalists, they'll never have to find out. They'll be safely hiding from the world, sniffing their money.