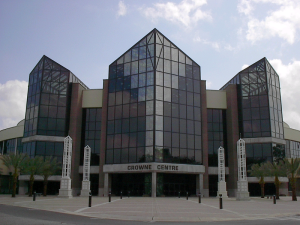 A little background: The Campus Church (Pensacola Christian College's church that most staff and students are required to attend) recently lost its third pastor in five years leaving long-time resident professor and vice-president Dr. Joel Mullenix to fill the pulpit.
In the most recent telecast of Sunday's morning service, Dr. Mullenix dispensed such a classic example of all that's wrong with fundamentalist preaching that I could not help but put it here. Without further ado, I give you the SFL summary of "Pictures of Laodicea from Mount Sinai" broadcast December 6th.
After a brief intro explaining that the seven letters to the churches in Revelation 2 and 3 are representative of seven church ages and that we are now in the last age of Laodecia, the good doctor dives right into the drawing seven parallels between Mt. Sinai and our current church age. They are as follows:
1. The children of Israel waited 40 days and nights for Moses to return. This is just like the current church waiting for Jesus to return in the Rapture. And if we really believed that he was coming back and rapturing us all we'd live a lot differently than we do.

2. Aaron didn't stand for the truth at Sinai. Neither to Neo-evangelicals, Neo-orthdox folks, or basically anybody else with Neo in their name. Mark and avoid them.

3. The Children of Israel used music that sounded like the sounds of war. THIS IS JUST LIKE ROCK MUSIC IN THE CHURCH! (No, I'm not kidding, listen to it for yourself).

4. Israel was naked just like the church in Laodeciea. Which reminds us that people no longer dress up and wear their best clothes for church. Because that's exactly like being naked. Right.

5. Idolatry made the people claim they were worshiping God while doing the world's work. Just like people today who live and worship like the world does and call it God's work.

6. God was angry at Israel and wanted to destroy them. LOOK AT ALL THE HURRICANES, NATURAL DISASTERS, DISEASES, AND PLAGUES THAT HAVE NEVER, EVER HAPPENED BEFORE EVER EVER EVER. IT'S ALL BECAUSE WE'VE ALL GONE LIBERAL IN OUR CHURCHES. God is obviously angry at us too. Turn or Burn.

7. God moves away from the people just like Jesus is found outside the church in Revelation 3. Evidently he's standing out there because he doesn't like the music inside. Oh, and doctrine too. And other stuff.

Conclusion: Who is on the Lord's side? Are you on the Lord's side? Well are you? Then please stand to your feet. No, really. Stand up. Are you standing yet?
I for one am not only standing, I'm saluting too. One wonders what preacher boys learn in Homiletics classes at PCC other than how to properly use hairspray. I'd also like to take this opportunity to invite those who claim that SFL only covers the lunatic fringe of fundamentalism to explain to me how this sermon from a mainline fundy organization fits into that theory.