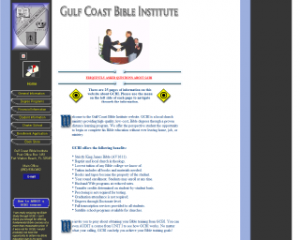 Do you want to get a degree for ministry but don't want to bother learning Greek, Hebrew, or even English Grammar? Have we got the place for you!
Gulf Coast Bible Institute provides the following courses that are indispensable for any fundamentalist preacher boy who is headed into the ministry.
CL-018 Overcoming Sinful Habits (3 Credits)
BI-009 Music Evaluation (2 Credit)
TS-024 Sins of the last days (1 Credit)
CL-006 Conquer Impure Thoughts (.5 Credits)
If you're a woman you can take:
LA-001 Spiritual Needs of Husbands in lieu of BI-003 Preaching Techniques.
They do NOT, however, give out honorary degrees. Pity.