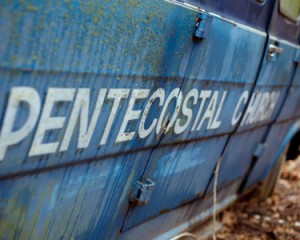 Fundamentalists not only believe that the sign gifts of acts have ceased, they also believe that those who practice tongues, prophecy, and healing gifts in the modern church are actually empowered by dark forces of evil. To prove this point beyond a shadow of a doubt, there is a great illustration that has been floating around fundamentalist circles for about forty years now that goes something like this…
A missionary from some faraway dark place that is just lousy with demon activity comes back home from the field and goes to a church service where people are speaking in tongues. As he listens suddenly he turns white as a ghost and yells at everybody to stop because unbeknownst to them they have been blaspheming fluently in a foreign language!!!
The key here is that the language must be very obscure and known only to the missionary who tells the story. The devil is sneaky enough not to make people blaspheme in something so common as Spanish or Italian. It must be some strange  dialect that is only known to a few natives in some place like Africa,  China, or Boston.
But no matter how apocryphal the circumstances there's no doubt in any fundamentalist mind that such a thing could happen and indeed probably did happen. Who knows? One supposes that if an infinite number of charismatics held and infinite number of services anything is possible.