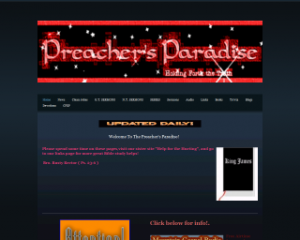 This week's pick is preachersparadise.org. If you have epilepsy, please beware the seizure-inducing flashing banner. You have been warned.
Be sure to Check out this deal!
ALMOST 800 EXPOSITORY,ALLITERATED,FULL TEXT SERMONS!
CONTAINED IN THIS AWESOME SET IS OFFER 2 AND 3 ABOVE.PLUS THE NEW SERMONS ADDED.ALMOST 800 TOTAL FROM OLD AND NEW TESTAMENTS! AS A BONUS:THE FIRST 25 BUYERS WILL RECIEVE OFFER # 1 ABOVE FREE!!!!